In a story for Vox Monday, Matt Yglesias argues that we shouldn't be worried about losing our jobs to robots — or to any other kind of sophisticated tech that can do the work of a human. What should worry us, Yglesias suggests, is the possibility that this doesn't happen.
To Ygelsias, the sluggish productivity gains in the American economy over the past 40 years or so are evidence that the impact of automation on jobs, past, present and future, is a "myth."
If robots were taking our jobs, the productivity of the workers who still have jobs — the total amount of work that gets done divided by the total number of people who are employed — would be going up rapidly. But it's not. It is rising, but it's rising slower than it did in the past.
Yglesias cites the 2015 Economic Report of the President and the annual report from the Council of Economic Advisers, which do indeed show that labor productivity growth has tapered off. He suggests a number of policy changes for adapting to a world with less work, and those proposals are worth debating.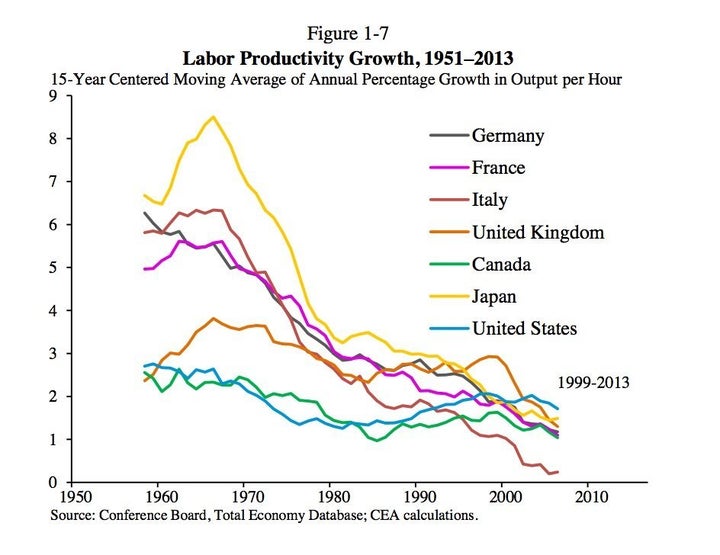 White House Council of Economic Advisors
But Yglesias is wrong to assert that 1) many professions have not been significantly affected by automation and 2) many more won't be soon. He claims, for example, that for many people, advances in tech have only affected their day-to-day jobs in "relatively superficial ways": 
These days people are perhaps more likely to book a reservation or order a takeout meal with an app rather than a phone call, but the core work of serving and preparing food has seen very little progress.
Well, maybe. But observe the touch screens in use at your local McDonald's — or read Dr. Atul Gawande's 2012 New Yorker story about how the Cheesecake Factory has standardized and modernized its food-prep practices — and you might come to a different conclusion about what technology has already wrought. Then, watch the video of a robot chef embedded below and think about what's coming in the next few years.  
This machine isn't just playing the role of a microwave jockey in a fast-food restaurant. It's producing restaurant-quality fare. The robot chef in this video is a prototype, but technology of this kind could be on the market in just a couple of years, according to the BBC.
Soon, many restaurants will have screens that allow customers to order and pay for their food — which then may or may not be delivered by a human.
Food preparation and food service are just the beginning. Yglesias is right that "we still don't have robot doctors who can treat patients in lieu of costly and inconvenient human ones." We can assume that "Dr. Watson" will still be in the waiting room for a few years yet, although IBM's efforts to apply its software to medicine continue.  
We can also assume, however, that there are many, many people who currently a) work in some kind of customer-service capacity and b) don't make life-or-death decisions on a daily basis. It's these kinds of jobs that are most at risk in the decade ahead.
Telemarketers, accountants and retail workers are at the bottom of this chart from The Economist that lists the odds (as calculated by Carl Benedikt Frey and Michael A. Osborne, of the University of Oxford) that computerization will lead to job losses in various industries by 2023. Technical writers and real estate agents aren't far behind.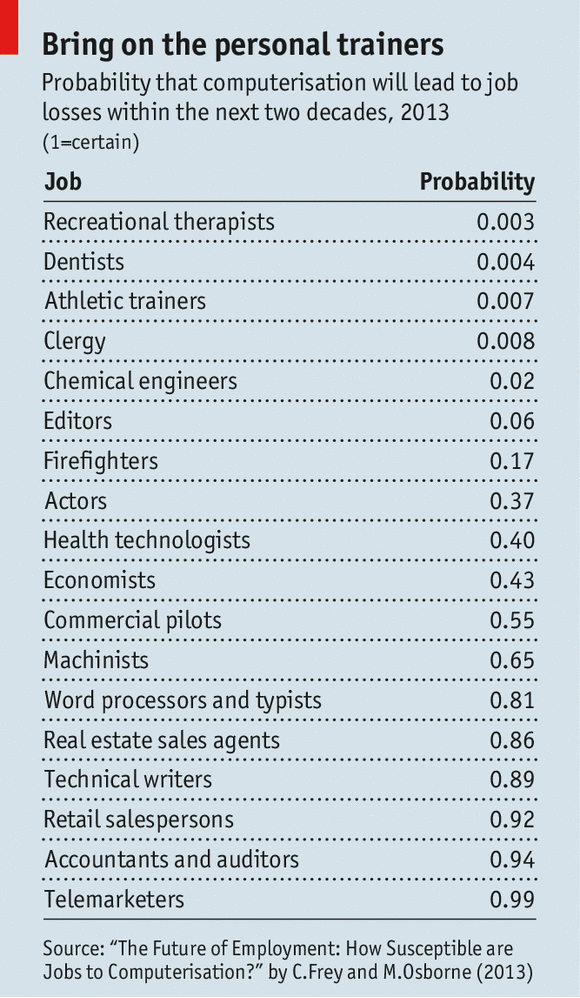 The Economist
"The advances we're seeing in artificial intelligence and machine learning will infiltrate the broader economy quickly," MIT research scientist Andrew McAfee told The Huffington Post last week.
"We'll see digital customer service representatives before much longer, answering complicated questions, doing troubleshooting and setting up appointments," he said. "A lot of people make a living today by listening to other people, figuring out what they want and giving that to them. We have always needed a person throughout history for that work." 
A Japanese hotel run by robots shows what's already possible. E-discovery software helps law firms to quickly find what they need amid reams of documents — a task that might once have required a room of paralegals to accomplish. Algorithms provide financial advice. And although Yglesias' position at Vox is probably safe, anyone who does commodity reporting on quarterly results should fear the software that produces financial journalism for the Associated Press. 
The impact of technological advancement on peoples' job prospects will probably grow. Many (though not all) of the experts surveyed on the future of jobs by the Pew Internet and Life Project last year believe that artificial intelligence, machine learning and automation will imperil white-collar jobs, from media to medicine to finance to law, along with many aspects of the retail, hospitality and customer service industries.
The good news — as The Economist highlighted last year, and as Yglesias himself points out — is that technological innovations have historically delivered more jobs than they have destroyed. My bet, though, is that the wave of automation moving through the world right now is going to replace a lot of labor. That which can be automated will be. 
What we have less insight into is how well the people whose professions become obsolete due to advances in automation will be able to adapt. Detroit was ground zero for these kinds of challenges in the last century. While some kinds of retraining programs hold promise for displaced people, structural unemployment could be in the cards for a great many Americans — factory workers would be just the beginning. If self-driving trucks displace truckers, millions more could join the ranks of the disrupted. There's a CVS in Washington, D.C. that I've been to, where one attendant watches over four automated checkers and provides customer support as needed. I predict we're going to see a lot more of that kind of thing.
What should we do about the fact that soon, many more people could lose their jobs to automation? In 2012, I wrote about a useful innovation agenda for the next president of the United States. In less than two years, it will fall to someone other than President Barack Obama to grapple with more economic disruption. We should all wish him or her luck in leading the country to help those most affected.
http://www.huffingtonpost.com/entry/automation-robots-jobs_us_55b648b9e4b0224d8832c332